<![if !supportEmptyParas]> The Lindbergh Kidnapping Hoax
THOMAS X. CASEY'S HAUPTMANN BRONX QUIZ
Directory Books Search Home Transcript Sources
11/10/02 WKMG Investigates 3/1/03 WKMG New Evidence 4/1/03 More WKMG
by Judge W Dennis Duggan, JFC
<![endif]>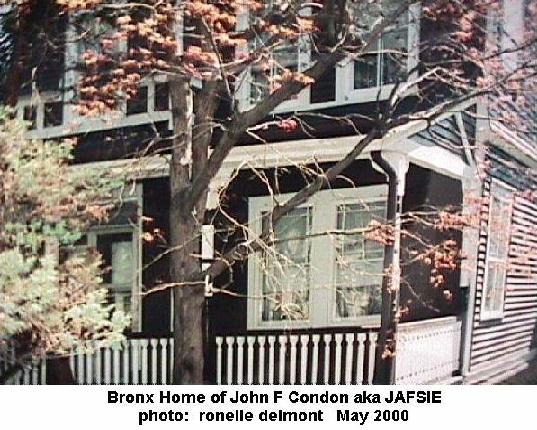 Thomas X Casey's Website "Bronx Post Cards"
Mr Casey was a participant in Richard Sloan's Bronx Tour 2003
1 Anna Hauptmann worked at Fredreickson's Bakery who worked at Anna's Bakery on 183rd Street?
2 What did the "Dentist" buy at Raabe Pharmacy at 3981 White Plains Road?
3 Lindbergh departed for France from Roosevelt Field.
He was supposed to depart from Curtis field. Curtis Air purchased a field for an airport in the Bronx.
What two developments were actually built?
<![if !supportEmptyParas]> <![endif]>
4 3/11/1932 Condon receives his first telephone call from the "kidnappers."
Condon asks "Where are you calling from?"
What was the location that the kidnapper told Condon they were calling from?
<![if !supportEmptyParas]> <![endif]>
5 What "medical" opinion did Mrs. Ella Achenbach who lived at 1253 E.222nd St. give?
6 Who lived with Mr. & Mrs. Hans Mueller at 2701 Marion Ave. ?
7 The night of the "payoff", where did Al Reich and John Condon dine?
What did they eat?
8 What did Anna Schoeffler, Louisa Schussler, Pauline Rauch and Karl Pellmeier have in common?
9 Myra Hacker, Mary Brown and Agnes Sweeney had what occupation?
Match their husbands.
10 What was planned at Hans Heinzman's Bavarian Beer Garden? (Hint – 223rd St. & Needham Ave.)
11 On 3/19/1932, who did John Condon meet at 394 East 200 Street?
Bonus – On 3/1/1932 8pm, August Van Henke, "claims" he met Hauptmann
at a gas station on Dyre Ave and Boston Road.
He stopped to speak to Hauptmann because he recognized ??? from his 1463 Vyse Ave Apt.
MAP OF RICHARD SLOAN'S BRONX TOUR SITES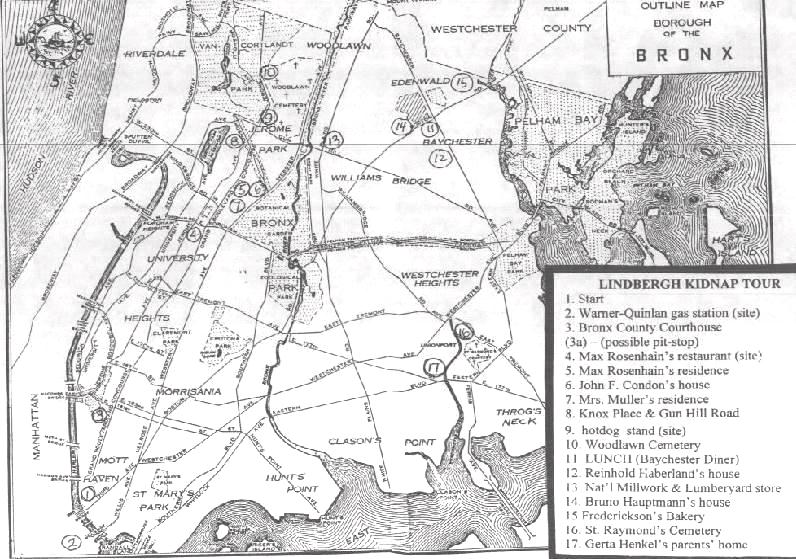 Bonus - Van Henke was searching for his lost dog " REX". Hauptmann had the Fredreickson's Dog.
11 - At a bazaar to raise money for the Hart Island Chapel, the "mystery" woman from Tuckahoe NY"
10 - On 9/19/1934 the Police plan the arrest and surveillance of Bruno Hauptmann.
9 - Teachers - Myra ( Condon's daughter, married to Ralph) Mary-John Condon, Agnes-Al Reich.
8 - They all lived at 1279 E. 222nd St. ( Anna's maiden name & Bruno's alias when deported)
7 - Preston E. Parry's Restaurant, 487 City Island Ave. (An oyster fry)
6 - Anna Hauptmann and Manfred Hauptmann ( son) from the arrest to the trial lived with her cousin.
5 - She testified, 2 days after the kidnapping she observed Bruno walking with a limp, which he
received from a "fall" (Anna Hauptmann took her daughter to Europe)
<![if !supportLists]> 4 <![endif]> - Westchester Square
3 - Freedomland and Co-op City
2 - Max Schaffer stated Bruno Hauptmann claimed he was a Dentist when he purchased a bottle of Ether.
1 - Bruno Hauptmann did interior carpentry work there.
Please visit The Lindbergh Kidnapping Hoax Forum
ronelle@LindberghKidnappingHoax.com
Books Search Home Transcript Sources
---
© Copyright Lindbergh Kidnapping Hoax 1998 - 2004
<![if !supportEmptyParas]> <![endif]>
Please visit The Lindbergh Kidnapping Hoax Forum
Ronelle@ LindberghKidnappingHoax.com
Directory Books Search Home Transcript Sources
---
© Copyright Lindbergh Kidnapping Hoax 1998 - 2004