The Lindbergh Kidnapping Hoax
and The Trial of Bruno Richard Hauptmann
Police Statement of Betty Gow
March 10, 1932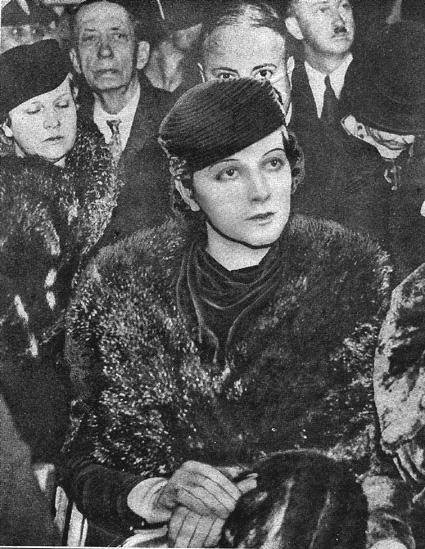 Statement of : Betty Gow
Contributed by Philip Migliore to the LKH Public Forum
Residence : the home of Col.C.A.Lindbergh, Hopewell, N J
Age: 28 years
Occupation: Maid

Statement made to Lieutenant John J Sweeney (Newark Police Dept).
Detective Hugh J Strong
(Newark Police Dept).

STATEMENT

I was born in Glasgow, Scotland, February 12, 1904. I resided With my parents at 30 Nithsdele Street, Glasgow.

I attended school until I was about fourteen and started to work as a salesgirl in various stores in Glasgow. My last position was with A.L. Scott& Son, Glasgow, shoe dealers.

I worked for them for four years
up until the time I left Scotland,
until April 28, 1929, to come to America.

I left on the steamship Cameronia of the Anchor Line.
When I arrived in America I went to the home of my brother William,
Who lived in Bogota, NJ, I had a position waiting for me and only stayed with my brother for two days when I went with a family Named Gibbs in Teaneck, N J,
where I stayed as nursemaid for about a year.

Then I left Gibbs voluntarily and for a short time I was To visit friends named Jackson in Detroit. This was in May 1930. I procured a position with a family named Ross, who lived in the Parkstone Apartments in Detroit. I didn't like this position and
only stayed a couple of days and in a few days I obtained another position with a family named Moser who lived at Grosse Point, Detroit.

I stayed with them exactly two weeks. I didn't like that position and left and obtained a position in the Whittier Hotel in Detroit where I stayed for three months.

While employed at the hotel I resided at 8737 St. Paul, Detroit.
I can't recall the name of the people that I boarded with at this time.

I left Detroit in September 1930 and went to Bogota, NJ and stayed at the home of my brother William for one week when I obtained a position as a nursemaid with a family by the name of Sullivan who lived at #82 Gen Road, Englewood.

I stayed with the Sullivan family for six months and left voluntarily to take up my position as nurse with the Lindbergh family who were then staying with the Morrows in Englewood. I obtained this position through Mary Beattie, a personal maid to Miss Elizabeth Morrow.

I started my duties with the Lindberghs at their temporary home in Princeton where I stayed for about eight or ten weeks and then went to the Morrows home in Englewood, where I have been ever since.

On July 29, 1931 I was accompanied to the Morrow estate in North Haven, Maine,
on a vacation with the Lindbergh child. The baby and I stayed there until October 15, 1931 and on this date Mrs. Morrow and Miss Elizabeth came to North Haven and accompanied the baby back to Englewood.

I met a young fellow named Henry Johnson around the first part of August 1931 at North Haven. I was introduced to him by the Morrow's chauffeur, Alfred Burke.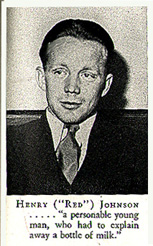 On September 4, 1931 my brother who lived in Tenafly, N J, and who was employed as a lineman for the Public Service in Hackensack, met with a serious accident and upon being notified of his of his death. During the month of September 1931 all of the Morrow family and all the Servants, except the cook were away from the house for a period of about three weeks. During my stay at the Morrow estate in North Haven I attended dances and public functions on numerous occasions with Henry Johnson
and he visited me there several times at the home.

There is nothing that I can recall now that would tend to arouse my suspicion in regard to the safety of the Lindbergh child during my stay at North
Haven. The reason for my going to Detroit was to visit a young man whom I had known on the other side and with whom I communicated with.

His name is William Coutts and I knew the Jackson family room Scotland.
I was disappointed in William Coutts and returned to Bogota, NJ We arrived in Englewood on October 16, 1931. Mrs. Morrow and Elizabeth Morrow came to North Haven and accompanied me and the baby To Englewood. The first time I visited Hopewell was the first of January, 1932. It was customary for Mr. and Mrs. Lindbergh to take the baby to the Hopewell residence almost every week-end after Thanksgiving. After the residence in Hopewell was finished, after Thanksgiving, 1931, the family started to come here week-ends.
The custom would be to come down on Saturday afternoon and return Monday Morning. I came here New Years' Eve with the Lindberghs and this Last visit on February 27th.
I also visited the Hopewell house on two occasions in company with Henry Johnson. Both of these occasions were on a Sunday. On New Year's Day 1932 Henry Johnson drove me to Hopewell and left me here. I recall on my first visit to the Hopewell house Mr. and Mrs. Whately showed Johnson and I through the house. Saturday afternoon, February 27th, Mrs. Lindbergh and the baby accompanied by Miss Root, were driven from the Morrow estate by the chauffeur Henry to Hopewell.
This was the first visit after a lapse of 2 weeks. I saw Henry Johnson Saturday,
Sunday and Monday preceding the kidnapping and on one of these occasions he told me that he was Going to Hartford to visit his brother. I also had an appointment to
see him Tuesday because he had decided to leave for Hartford Wednesday.
Around noon time Monday, February 29th Mrs. Lindbergh telephoned me at the Morrow home in Englewood and told me that she intended to keep the baby down until Tuesday because he had a slight cold. On Tuesday, March 1, 1932, at 10:30 A M Mrs. Lindbergh called me from Hopewell.
She advised me to come down by train, but when I got in touch with Mrs. Morrow,
Mrs. Morrow suggested that I come down by auto. I then called Mrs. Lindbergh,
told her of what Mrs. Morrow had said and she approved of it. I then called Henry Johnson, but he was not at home. I spoke to Mrs. Sherman at the place where he boards and left a message for him to call me at Englewood. She expected him any minute and I was not leaving for another hour. I left quarter of twelve with Henry,
the chauffeur. We stopped at a drug store at Englewood to buy something and we arrived here at two o'clock, had a bite to eat and went on up to the nursery.

Henry returned after having a bite to eat. After lunch, about 2:30 I went to the nursery. I took him out of bed and dressed him. I remained in the nursery I took him out of bed and dressed him. I remained in the nursery while the baby was playing around until about 4:30 when Mrs. Lindbergh and Mrs. Whateley came into the nursery. We three stayed there a short time. Mrs. Lindbergh suggested that we take the baby downstairs for a little while.

They both left the nursery and I followed shortly afterwards with the baby.
I brought the baby to the living room where Mrs. Lindbergh was having tea.

Then Mrs. Whateley and I had tea in our sitting room. This must have been about five o'clock. At about 5:30 Mr. and Mrs. Whateley and myself were in the kitchen,
The baby came in, spoke to Elsie.

He ran around the table once or Twice and I took him by the hand and took the baby upstairs. I read To the baby until about six 'clock and I left him alone for about Two minutes while I got his cereal from downstairs. Mrs. Lindbergh Came in just as the baby was finishing his supper. This was shortly after six o'clock.
Mrs. Lindbergh and I changed the baby's clothes and prepared him for bed.

As he had a cold we put drops in his nose, rubbed his chest, gave him a physic,
then changed his night dress and That took a little time. When he was all fixed for bed Mrs. Lindbergh and I decided to make a little shirt of flannel instead of the flannel bandage which he had on him. Mrs. Lindbergh left the room to procure scissors and thread and played with the baby while I cut and stitched the shirt.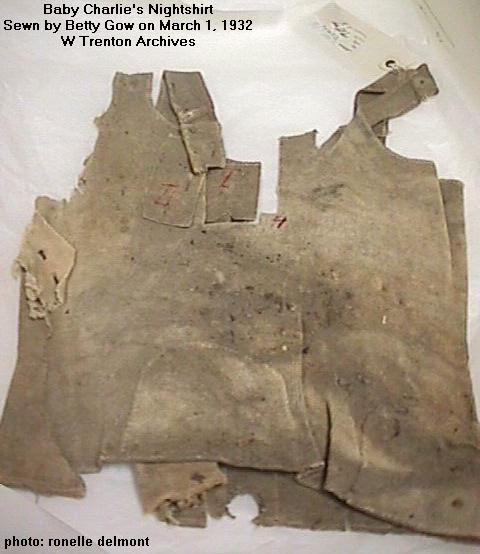 I put this on him and put him under covers to sleep. Mrs. Lindbergh and I went around to the windows, fixing the shutters, and when she left the room I opened one window in the rear. This window opens inward.
I opened the window half-way Mrs. Lindbergh left the room before I did.
This was about seven-thirty. Mrs. Lindbergh and I locked the shutters,
except one and we fixed it as best we could. Before I left I put the light out,
closed the door light. Both doors to the room were closed. I went Into the bathroom and washed some of the baby's clothes and stayed asleep, went into his room,
found that he was fast asleep and he seemed to be very comfortable.

He was breathing very easily with no sign of chest trouble. I then fastened the covers to his mattress with two large safety pins. This would be about ten minutes to eight.
Then put the bathroom light out and put out the light in my own room and went downstairs to the cellar to hang up some of the clothes I had washed.

Then I came upstairs to sitting room for my supper. I Had supper with Mrs. Whateley.
Around eight-thirty I heard Colonel Lindbergh blow his horn and Mrs. Whateley got up to attend to the supper. I finished eating. About a quarter of nine Mr. Whateley came and called me to the phone. I answered the phone and it was Johnson.
He told me how sorry he was to miss me at Englewood and that he would have liked to have seen me before I left Englewood.

When I passed through the kitchen I told Mrs. Whately it was Johnson and later on I told her that he said he was sorry that he didn't see me as he was going to Hartford.

I Went into the sitting room after I came from the telephone and put One the radio.
Mr. and Mrs. Whateley came into the sitting room.
He started to read the paper.

Then Mrs. Whateley asked me to come upstairs, which I did. She showed me some dresses and we talked. Suddenly I looked at my watch and said, "It is nearly ten o'clock, I have got to go to the baby. I went in the bathroom, lit the light and put the electric heater. Then I thought I would get Mrs. Lindbergh to go in with me and see the baby.

I me Elsie on The way to Mrs. Lindbergh's room and asked her where Mrs. Lindbergh Was and she said she was about to have a bath and I said, "All right, I won't disturb her," and then I said, "If she wants to see the baby she can go through the connecting door." Then I went back to the Baby's room.

I opened the door, crossed the room , closed the French windows, plugged in electric heater and then crossed to the baby's cot, which is at the wall furthest from the windows. There was also a screen at the head of the bay's cot.
I crossed to the baby's cot and discovered that I couldn't hear the baby breathing.
I thought that something had happened to him, that perhaps the clothes were over his
head. In the half light I saw he wasn't there and felt all over the bed for him.

I went into Mrs. Lindbergh's room through the passage and asked her if she had the baby. I said "Do you have the baby, Mrs. Lindbergh?" and she replied,
"No." She was just coming out of The bathroom door.

I said, "Perhaps Colonel Lindbergh has him then." I said, "Where is Colonel Lindbergh?" as she looked at me in a bewildered way. I ran downstairs,
stood at the door of Colonel Lindbergh's study, the door was open (door which leads into the living room); I went through the living room. The Colonel was sitting at his desk, the desk reading light was lighted. I said, "Colonel Lindbergh, have you got the baby, please don't fool me." He said, "The baby? Isn't he in his crib? I said, no.

He jumped up and run upstairs. I followed the Colonel and saw him coming out of a closet out of his room with his rifle. Colonel Lindbergh, Mrs. Lindbergh and I went back to the baby's room and Colonel Lindbergh spoke to Mrs. Lindbergh.

As I remember he said, "Anne, they have stolen our baby."
We stood at the top of the stairs when he told me to call Whately and tell him that he wanted him. I ran downstairs in the kitchen where Mr. and Mrs. Whately were and said, "Whateley, Colonel Lindbergh wants you at once, the baby is gone."
Whateley, immediately ran upstairs, Mrs. Whateley and I followed him.
Mrs. Whateley said, "What's happened, Betty, what's happened?" I just replied,
"The baby has gone." We all search all around the House, the closets and drawers,
in the cellar and attic and everywhere. This must have been about quarter after ten. When we couldn't Find the baby in the house the Colonel told Whateley to call the police.

Bessie Mowat Gow

(This statement stenographically taken and transcribed)
by Samuel B. Finklestein, Newark Police Department.