The Lindbergh Kidnapping Hoax
AL REICH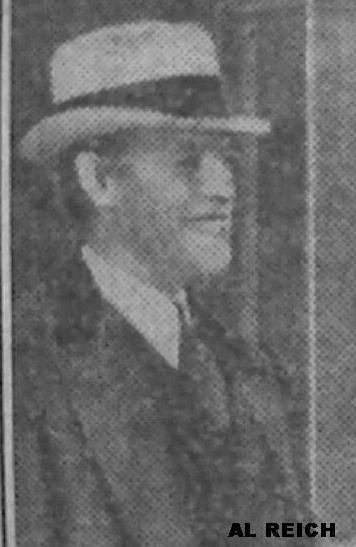 Directory Books Search Home Transcript Sources
New York Times Obituary
AL REICH BODYUARD OF "JAFSIE"
IN LINDBERGH CASE, DIES AT 73
Ossining NY July 29----Al Reich, a former boxer who was bodyguard for Dr. John F Condon, the Jafsie of the Lindbergh case died here Saturday in his home. He was 73 years old. Mr. Reich whose full name was Alfred J. Reich testified at the trial of Bruno Hauptmann in Flemington N.J. in 1935 about his assistance to the late Dr. Condon, the teacher who volunteered to be an intermediary between the family of Charles Lindbergh and the kidnappers of Lindbergh's son.
The former fighter was with Dr. Condon when he, unaware that the child was already dead, tossed a box containing part of the ransom money over the wall at St Raymond's Cemetery in the Bronx in 1932.
Note: This is untrue. Reich did NOT accompany Condon on that cemetery visit, although, he did drive Jafsie to the first meeting at Woodlawn Cemetery. At St Raymond's Lindbergh drove Jafsie himself and waited in the car while Condon disposed of the ransom money.
Some of the bills in the money package were later traced to a hidden place in Hauptmann's garage in the Bronx. Mr.. Reich was later a boxing and wrestling referee. he had been a heavyweight boxer. On April 5, 1924, he was knocked out in a bout in Buenos Aires by Luis Angel Firpo, the South American heavyweight champion who was known as "the wild bull of the pampas", and who had the year before knocked Jack Dempsey out of the ring at the polo grounds in New York before losing that fight.
Mr. Reich was one time a sparring partner for Dempsey.
He leaves his wife, the former Agnes Sweeney, and two brothers, George and Walter.
Yankee Stadium opened on April 18, 1923, and the first bouts took place on May 2. Five heavyweight fights to benefit the Mayor's Milk Fund attracted 63,000 fans who paid $390,000. Jess Willard stopped Floyd Johnson, who was unable to come out for the 12th round; Luis Angel Firpo knocked out Jack McAuliffe 2d in the third round; Jack Renault won on a foul from Fred Fulton in the fourth round; Jim Herman knocked out Al Reich in the sixth round and Harry Drake earned a four-round decision over Joe McCann.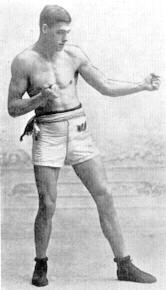 The New York Times
December 23, 1981
WINE TALK
By Terry Robards
HE was a giant of a man, a former heavyweight boxer with facial scar tissue
from years in the ring, a slugger of the 1920's who once reigned as the national
amateur champion, who once ranked among the top professionals in the sport, who
came close to but never won the heavyweight boxing championship of the world.
Now, old and retired, Al Reich was living on memories of the glory days as we
leafed through the newspaper clippings in his scrapbook. We drank icy Dom
Perignon 1929 poured by his wife, Agnes, on their veranda on a sunny spring
afternoon as he talked about the past.
The Champagne, in its fourth decade, seemed superb at the time, still frothy
and crisp yet filled with fruit, and we drank a second bottle as Mr. Reich
recalled a bout in Buenos Aires in 1924 when he was knocked out by Luis Angel
Firpo, known to fight fans as the Wild Bull of the Pampas.
Mr. Reich had a supply of Dom Perignon in the cellar of his house overlooking
the Hudson north of New York, and he carefully saved the bottles from that
fabled 1929 vintage, uncorking them only when he knew the memories would be
discussed, when people truly curious about his past came to visit. Somehow the
Champagne accentuated the moment, helping recall a time when things were
different and Dom Perignon was always at hand for moments of celebration.
Mr. Reich has since died, and any bottles of Champagne from more than half a
century ago are also likely to be no more than memories. Champagne, which does
not benefit from long aging, should be drunk when fairly young, when its bubbles
are fresh and lively and its essence has not oxidized, as it inevitably will.
I am not even confident how good the Dom Perignon 1929 really was that
afternoon, for I know that mood and atmosphere contributed to flavor.
Without realizing it, that was probably the first time that I was victimized
by vintage fever, the overwhelming desire to drink old Champagne, the older the
better, and exclaim over its quality regardless of how flat it is. The
affliction strikes unexpectedly, affecting even those who should know better,
for elderly bottles of vintage Champagne are rare and the inclination is to
think that their taste is superb when it is actually somewhat less.
Unlike great red table wines, Champagne does not improve beyond a certain
point, perhaps a decade after it reaches the market. The 1975 vintage being sold
now by most producers is ready to drink, and it may keep improving for a few
more years, but it should not be regarded as a wine for laying down.
The best that can be hoped is that vintage Champagne, under normal storage
conditions, will not begin to lose its bubbles, oxidize and otherwise fall apart
into the second decade after the harvest. Any vintage older than about 1961
would be chancy today, and prudent consumers will avoid those older than the
1969.
It is also well to remember that most Champagne is nonvintage, meaning that
it is blended from the production of at least two harvests and carries no year
on the label. Vintage Champagne is produced only when the best quality can be
made, when weather conditions are such that a superior product will result. That
happens three or four times in a decade.
One other warning is in order at this season when Champagne consumption is at
a peak: Beware of old bottles of nonvintage Champagne. Because there may be no
way to know how old they are unless the consumer remembers the date of purchase,
it is best to buy the youngest, cleanest-looking bottles. If a bottle has been
lying around for years, drink it before it can age further.
All of this should not suggest that older Champagnes are automatically bad. I
recently discovered a cache of vintage bottlings dating back to 1961 in a
Manhattan restaurant, Maxwell's Plum, which is noted more for its
singles-oriented glitter than for its wine list. I organized a tasting that
clearly demonstrated that the size of the bottle was more important than the age
of the wine, at least in this instance.
The wine in the worst condition was a single bottle of Bollinger R.D. 1961
that had been stored under ideal conditions at Maison Bollinger in France until
1972. A Charles Heidsieck Brut 1969, also in a single bottle, had retained
plenty of froth, but it too was old and tired. A Laurent Perrier Grand Siecle
1966, again a single bottle, exhibited that chocolaty, bittersweet flavor
brought on by partial oxidation; it retained its sparkle but the taste betrayed
its age.
In superb condition, on the other hand, were double magnums of Bollinger
Special Cuvee 1964 and 1966. A double magnum holds four single bottles, and the
sheer mass of the wine in a large container enables it to resist temperature
changes and the oxidation that comes with air exchange through the cork.
In equally sound condition was a magnum (equal to two single bottles) of Dom
Perignon 1962 that was fresh, clean and stylish. It was rich and creamy on the
palate, the epitome of elegance, and it reminded me of the 1929 vintage served
by Al Reich. Perhaps I was victimized anew by vintage fever, but this time my
guard was up as I drank a silent toast to the fighter.
Your interest in the LKH website is appreciated. If you remember to use the Amazon Search Box below, this website will receive a 2% or 5% commission on some of your purchases. Thanks!
email: ronelle@LindberghKidnappingHoax.com
Please visit :

Ronelle Delmont's Lindbergh Kidnapping Hoax Forum

Michael Melsky's Lindbergh Kidnapping Discussion Board
Directory Books Search Forum Home Transcript Sources
© Copyright Lindbergh Kidnapping Hoax 1998 - 2005