The Lindbergh Kidnapping Hoax
NYU Alumni Centennial Dinner March 1, 1932
Why Didn't Charles Lindbergh Attend?
Directory Books Search Home Transcript Sources
by Judge W Dennis Duggan, JFC
11/10/02 WKMG Investigates 3/1/03 WKMG New Evidence 4/1/03 More WKMG
DINNER DATE MIX UP KEPT LINDBERGH FROM NYU
COLONEL UNDER IMPRESSION MARCH 4TH WAS RIGHT SAYS SPOKESMAN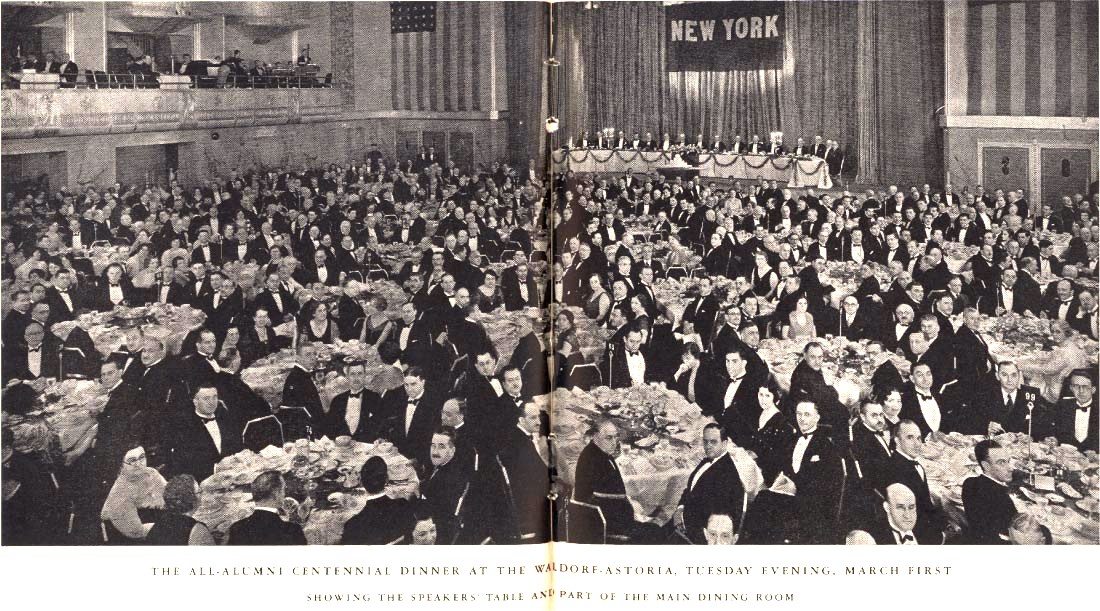 The following article is part of the NYU Archive files on their Alumni Dinner of March 1, 1932, held at the Waldorf
Thanks to NYU Archival Assistant, Abbie Weinberg, and researcher, Sue Campbell.
The vintage article, unfortunately, has no date. According to Ms. Weinberg, it was probably from the NY Times.
The reason for the absence of Colonel Charles A Lindbergh Tuesday night from the dinner of the New York University Alumni, Waldorf Astoria, was explained yesterday by a spokesman for the Lindbergh family.
The Colonel was under the impression that the dinner was to be on March 4th instead of March 1st.
A checkup of the correspondence between Col. Lindbergh and university and alumni officials reveals that on January 5th Chancellor Elmer Ellsworth Brown, of the university, wrote a letter inviting the Colonel, and that on the next day the letter was handed to him in the offices of J P Morgan and Co.
On January 13th a letter was received by Chancellor Brown from Lindbergh accepting. In the acceptance letter the date March 1st was mentioned twice. However, through some clerical error, the letter which the Chancellor wrote back, acknowledging receipt of the acceptance, referred to the event as taking place on March 4th.
Colonel Lindbergh went away on business in the meantime, and kept in his mind the date from the last letter from the Chancellor. Police think it highly probable that the kidnappers of the Lindbergh baby had watched the papers and found that Col. Lindbergh was scheduled to appear at the Alumni Dinner on Tuesday night, and laid their plans in accordance, expecting the Colonel to be away from home.
A large attendance at the dinner was disappointed when it became apparent that their distinguished guest would not be with them. Alumni officers made inquiries but were unable to reach the Lindbergh home, which was a private line.
MORE TO COME SOON!
Please visit The Lindbergh Kidnapping Hoax Forum
Ronelle@ LindberghKidnappingHoax.com
Directory Books Search Home Transcript Sources
---
© Copyright Lindbergh Kidnapping Hoax 1998 - 2004