The Lindbergh Kidnapping Hoax
Bruno Richard Hauptmann's "Defense"
Directory Books Search Home Forum Transcript Sources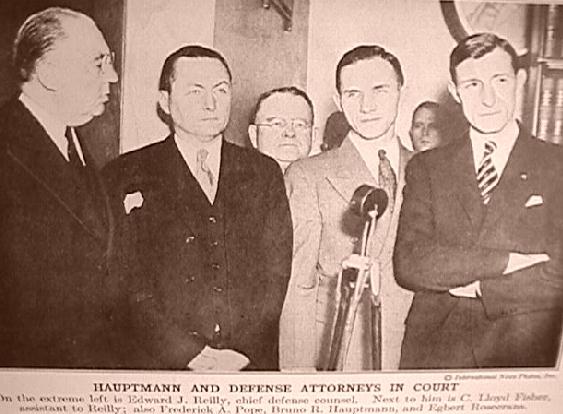 Lindbergh Kidnapping Hoax Forum

Ronelle Delmont's Lindbergh Kidnapping Hoax You Tube Channel

The State of NJ v. Bruno Richard Hauptmann: FAIRNESS ON TRIAL
by Judge W Dennis Duggan, JFC

June 20, 1935, Argued; July 15, 1935, Submitted on Supplemental Briefs
October 9, 1935, Decide
Edward J. Reilly, head of the Defense Team, did not spend more than 40 minutes speaking with his client. C. Lloyd Fisher, Frederick A. Pope, and Egbert Rosecrans were the other members that made up Hauptmann's defense. Fisher was well-liked and trusted by Hauptmann, much more than Reilly since he spent many hours speaking with Hauptmann. Fisher even made sure Anna and Bubi were safe.
During the trial, Attorney General David Wilentz had an employee of St. Michael's Orphanage called to the stand. He wanted to prove that the body found was the Lindbergh baby and not one from the orphanage. Reilly stood up and said, "There is no dispute."
He agreed that the baby was the Lindbergh baby. Fisher yelled, "You are conceding Hauptmann to the electric chair!" He then stormed out of the courtroom.
Later, Reilly demanded payment from Hauptmann, although he was paid by newspaper owner, Randolph Hearst. The Hauptmanns had no money. Fisher was leading a Defense Fund for an appeal. Reilly was fired by the Hauptmanns after demanding $25,000 and he later tried to sue the

Hauptmanns. He was not paid, though.
Reilly entered a mental institution, suffering from syphilis, not long after the trial. He was a known alcoholic who drank martinis during his lunch breaks at the Flemington courthouse.
He was known, by this time in his career as Death House Reilly. Today, he would certainly be sued for malpractice and have had his license revoked.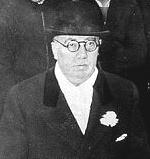 Will Lindbergh Save Hauptmann?
Liberty Magazine October 1935 (PDF Adobe)

Jan 12, 1935
New Yorker Magazine Profile of Ed Reilly (4 pages in pdf format)
by Milton MacKaye

LKH Forum Postings
Michael Donner
NJ prosecutor obviously did not have an "open file" policy
Fri Feb 22 2002

The prosecutorial abuses that you mention are surely troubling; this was long before Brady v. Maryland REQUIRED prosecutors to turn over any exculpatory evidence to the defense. Isn't it amazing that it took until 1963 for the U.S. Supreme Court to hold that the U.S. Constitution imposed this duty on prosecutors?
Oral statements to the police

One of the first lessons that any suspects to a crime should learn, ESPECIALLY ONES THAT ARE INNOCENT, is that you should NEVER give a statement to the police. Why is that? Let me ask you. If a policeman came up to you right now and asked: "What were you doing on March 1, 1999?", could you answer him off the top of your head? I certainly could not - I have NO idea right now what I was doing that day - whether I worked or not, what hours, etc. But what is someone's first reaction to such a question? You try to remember and answer. Lo and behold, you say you were working until 6:00 p.m., when, in fact, the prosecutor later discovers time records show you punched out at 4 p.m. I guarantee you, ALL you will hear on cross-examination at trial is "Didn't you say you worked 'til 6:00 p.m.? Now you say 4 p.m.? Which time were you lying?"

I'm not an apologist for Hauptmann, but I can understand his problem. Throw into the mix that his command of the English language was probably lacking, and his sleep deprivation/beating sertainly did not lead to clear thinking. I can understand how he could get confused about his time records and work history

Please visit :

Lindbergh Kidnapping Hoax Forum

Ronelle Delmont's Lindbergh Kidnapping Hoax You Tube Channel
ronelle@LindberghKidnappingHoax.com

Michael Melsky's Lindbergh Kidnapping Discussion Board
© Copyright Lindbergh Kidnapping Hoax 1998 - 2020