The LIndbergh Kidnapping Hoax
LINDBERGH NANNY, BETTY GOW, IN SCOTLAND
Directory Books Search Home Transcript Sources
Vintage newspaper articles on this website were found with Ancestry.Com databases - click logo for details
11/10/02 WKMG Investigates 3/1/03 WKMG New Evidence 4/1/03 More WKMG
Freedom of Information Act - 1368 pages of Lindbergh Files Online Free!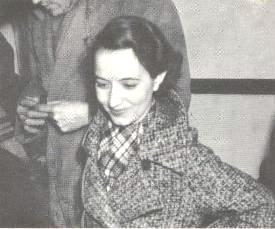 from "The Scotsman"
October 31, 1998

SCOTS NANNY WHO SHARED LINDBERGHS' TRAGIC LOSS

Thea Jourdan And Conal Urquhart


For more than 50 years, she kept her past a secret. It was a life punctuated by weekly trips to a Glasgow post office to collect a modest pension and polite but unobtrusive conversations with her neighbours.

Unknown to them, the quiet spinster harboured a sad secret; one that had deeply troubled her for most of her life.

Betty Gow had played a key role in what was described in 1932 as the crime of the century.

Miss Gow, then 26, had taken up what appeared to be a dream job as nanny to Charles Lindbergh, the pioneering and swashbuckling American aviator who became the first man to fly across the Atlantic in his single-engined plane, The Spirit of St Louis, in 1927.


Then the dream turned sour.

Lindbergh's 20-month old son, Charles, junior, was kidnapped and murdered.

To her horror, the finger of suspicion was first pointed at the devoted Scottish nanny.

She was quickly cleared of any blame, but a traumatised Miss Gow left her job and returned to Scotland. She never spoke of her ordeal until one day in 1993, when a US writer researching a book on the Lindbergh family knocked on the door of her smart terraced house in Glasgow.

Andrew Scott Berg, author of Lindbergh, published this month, last week recalled his first encounter with Miss Gow.

"She was smaller than I expected and there was something pretty about her. She was tough and feisty though. She was the one who was going to be in control here."

For three hours, Miss Gow, then 88, restricted the conversation to small talk. Mr. Berg sensed there would be no chance of breaking the reserve of a woman who could offer a unique insight into his subject.

"We avoided the difficult topics. Then, I suddenly remembered that Mrs. Lindbergh had asked me to pass on her regards."

He told the old lady and her demeanour switched in an instant.

"I told her: 'Anne Lindbergh sends you her greetings,' and she just burst into tears."

For more than half a century, Miss Gow believed she was hated by her former employers and blamed for their child's death.

She told Mr. Berg that, after the trial was over and she had returned home, she wrote to the Lindbergh's. They never replied and she assumed that was because they wanted nothing to do with her.

The truth is that almost certainly, the Lindberghs never got the note. At the time, they were receiving thousands of letters a week - good and bad - and rarely opened more than one in 20 of them.

Mr. Berg was in a position to set the old lady's mind at rest.

He knew from Anne Lindbergh that she and her husband had admired and appreciated their Scottish nursemaid and had been sorry that she left. "That was it. I could see that her life had changed. She had been carrying this emotional burden for years and I had lifted it from her. She was sobbing. It was the opening of the floodgates."

The Glasgow woman became one of the most revealing sources for Mr. Berg's book on the aviation hero who was greeted by a crowd of four million on his return to New York after his transatlantic flight.

Although Mr. Berg had been given complete access to the Lindberghs' personal papers and permission to interview close friends and family, he believed a significant part of the story was missing. Only the nanny, who was a trusted outsider, would have that special insight into the Lindberghs' marriage and family life.

Mrs. Lindbergh, who married Colonel Lindbergh in May 1929 and bore him six children was aware that she had a rival for her son's affections.

When she did finally devote some time to Charles, she confessed to her mother -in-law: "It is such a joy to hear him calling for 'mummy!', instead of 'Betty!' once in a while."

The close bond between baby and nanny meant that Miss Gow was as involved and as affected as the family by the kidnapping of Charles junior.

She was the last person to see the baby before he was snatched from his crib on 1 March 1932 by an intruder who left a ransom note. Despite paying the ransom of more than $ 50,000, Charles junior was never seen alive again; his body found two-and-a-half months later dumped in a ditch.

During her 1993 interview, Miss Gow recalled the fateful night when she entered the nursery and could not hear the baby breathing. "I thought that something had happened to him, that perhaps the clothes were over his head. In the half light I saw he wasn't there and felt all over the bed for him."

The nanny rushed to see if the baby was with his parents before joining the frantic search. She said she collapsed in tears of frustration when no sign of the child was found.

Ms Gow's ordeal continued.

She was immediately suspected by the police and faced several days of "grilling and criticism" before they accepted she played no part in the kidnapping.

Their next suspect was Ms Gow's boyfriend of more than a year, Henry "Red" Johnson. A Norwegian seaman illegally in the US, with knowledge of the Lindbergh household, Mr. Johnson became the prime suspect until also exonerated.

When the baby's body was found, it was Miss Gow that the police asked to identify the child's decomposing corpse.

She recognised it from his 16 baby teeth and his overlapping toes. "There was absolutely no doubt. This was my Lindbergh baby," she recalled.

Eventually Bruno Hauptmann, a German immigrant, was arrested and prosecuted in a trial that gripped America.

Hauptmann was found guilty in 1935 and sentenced to death by electrocution.

Edward Reilly, Hauptmann's lawyer, questioned Miss Gow about her relationship with Mr. Johnson. Miss Gow replied it was an innocent friendship with an innocent man.

Mr. Reilly then tried to discredit her because she had accepted $ 650 from the government to testify.

However, she pointed out that the sum covered loss of earnings and the cost of her voyage from Scotland to the United States, which she left after the murder.

A journalist noted in the next day's newspaper: "Mr. Reilly got very short change out of Betty (Gow)."

But the experience drained Miss Gow and she collapsed moments after she left the witness box. Overwhelmed by the media attention she was receiving at the time of the trial, Miss Gow dropped out of sight and returned to Scotland. She rejected a career involving children and became a seamstress.

She never married.

Berg also encouraged Miss Gow to recall her life with the Lindberghs before the kidnapping. Some of her recollections make chilling reading.

On one occasion she noted how her employer, an obsessive list maker with a compulsion for order, ducked his first-born under the bath water "to test his courage".

While Mr. Berg found a vital source for his book on one of the most famous figures of the 20th century, Miss Gow had a weight lifted from her finally knowing that the Lindbergh family did not blame her in any way for the death of their child.


Vintage newspaper articles on this website were found with Ancestry. Com databases click logo for details
Please visit The Lindbergh Kidnapping Hoax Forum

Contact: Ronelle@ LindberghKidnappingHoax. com

Directory Books Search Home Transcript Sources
---
© Copyright Lindbergh Kidnapping Hoax 1998 - 2004