The Lindbergh Kidnapping Hoax
Charles A. Lindbergh 1902 - 1974
"Kidnapping" Suspect #1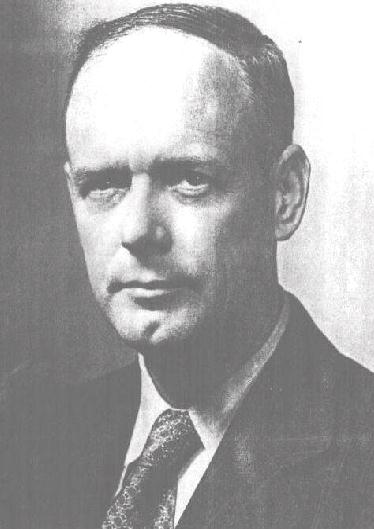 Directory Books Search Forum Home Transcript Sources

Lindbergh Kidnapping Hoax Forum

Ronelle Delmont's Lindbergh Kidnapping Hoax You Tube

Charles Lindbergh's ENTIRE Flemington Court Testimony

The New York Times Lindbergh Archive

Lindbergh Archivist Discovers NEW EVIDENCE

Forensic Evidence Removed By Lindbergh Family

Freedom of Information Act - 1368 pages FBI Files

Conspiracy Nation - The Kidnapping of the Lindbergh Baby by Carol Wallace

Fascism Part II: The Rise of American Fascism

Was Lindbergh a Nazi?

Meet Lindbergh's Secret German Children

Lindy Fears Hoffman

Fascism Part II: The Rise of American Fascism by Geoff Price - March 11, 2004
Charles Lindbergh became a hero in 1927. After flying solo in The Spirit of St. Louis across the Atlantic Ocean from New York to Paris he became a world hero of the status never to be seen again in American history.
In 1929 he married Anne Morrow, the shy daughter of a respected politician and businessman, Dwight Morrow. Morrow was a partner to J P Morgan and an enormously wealthy man whose death - in 1931 - saved New Jersey from bankruptcy due to the large estate taxes collected after his death.
Had he not passed away, Dwight Morrow's name may have been considered as a proper Republican candidate in the 1932 election - against Franklin Roosevelt.
Charles was twenty-eight and his wife was twenty-three when their first son was born on Anne's birthday, June 22, 1930. The rumors, at the time of Charlie's birth, that he was not quite well are logical considering the unusually high altitude flight taken by Charles and Anne - 7 months pregnant - on Easter Sunday, 1930.
The Eaglet was referred to as "It" and "Buster" by his famous father who refused to release photos of his firstborn child and prohibited certain newspapers from doing so as well.
Because he took control of the investigation from the moment it began and because he did not allow Police and Federal authorities to do their jobs Lindbergh has, to this day, never been "cleared" in the way that other parents of missing children would have to be today.
Neither would he allow any interrogation of his servants - in Englewood or Hopewell. He stonewalled all normal requirements of a rational police investigation making it impossible for investigators to do their jobs. He was never publicly blamed for any of this stonewalling as the public absolutely adored their hero and would not have tolerated any condemnation of him - especially since he was the father of the missing baby.
By allowing the "crime scene" to get colder and colder, Lindbergh caused the circus that ensued by his unbelievable stupidity for which the cops - especially, H Norman Schwarzkopf - took the blame for bungling the case. But, was it really stupidity? Or, was Lindbergh playing a more sinister role by purposely misleading the authorities - and especially, his wife?
WHERE WAS HE ON MARCH 1, 1932?
On the night of the baby's disappearance, Lindbergh had not only returned home late but had also failed to show up at the Waldorf Astoria where almost 2,000 NYU guests awaited his arrival for their centennial festivities.
Unfortunately, the Police never asked him where he had been all day and why he arrived home late. At Hauptmann's trial, 3 years later, he said he couldn't remember where he had been but he probably went to the Rockefeller Institute where he was doing research with Alexis Carrel and he may have gone to the dentist .
There is also his baffling claim that he heard the sound of crates or wood falling between 9 and 10 PM while sitting with his wife on a sofa in their living room. Though Lindbergh never got up off the sofa to check out the noise, the Police believed this story and used it to determine the time of the supposed kidnap. But, Anne was sitting with him and she never testified about his having heard any sound. It is more likely he just made it up at a later date to give himself an alibi.
Lindbergh was, by everyone's standards, a control freak and ANY strange sound in his home would surely have been investigated immediately. Yet, he did nothing to find out the source of those "falling crates."
Michael Melsky
Re: Now that you mention it.
Apr 6, 2002 posted on the LKH Forum

Agent Larimer Report 3-4-33:

p5

Colonel Lindbergh informed that....

(omit)

It was a household rule that no one, including the nurse, was to disturb the child while sleeping between the hours of 8:00 and 10:00 P.M.

(omit)

Shortly before eight o'clock on the night of March 1, 1932, the baby was in its crib in the nursery. From the hour of 8:30 to 9:15 P. M., Colonel Lindbergh and his wife were at dinner in the dining room on the first floor. The dining room is situated on the south side of the first floor, but separated from the library by a parlor. From approximately 9:15 to 9:30 P.M., Colonel Lindbergh and his wife sat in the parlor next to the dining room, then went to the second floor bedroom for a few minutes and returned to the first floor. In the meantime, continuously, Betty Gow was either in the kitchen or the west parlor on the first floor from 8:00 to 10:00 P.M. The Whatelys were in the kitchen on the first floor during that period. About 9:50 P.M., Colonel Lindbergh went into the library immediately under the nursery, where he sat reading for about ten minutes. At approximately ten o'clock Betty Gow went to the nursery and returned to Colonel Lindbergh on the first floor, asking him if he had taken the baby...

***No metion of a "breaking" sound here - Must have slipped C's mind...

Agent Larimer even notices and makes mention of it:

p7

Colonel Lindbergh seemed rather inaccurate as to details, and inasmuch as a later visit was contemplated, only the more pertinent points were touched upon in instant investigation.
THE "INVESTIGATION"
Lindbergh headed the investigation of his own child throughout the beginning weeks and months - up until the corpse was found in the woods nearby. He also drove the self-appointed intermediary, Dr. Condon a.k.a. Jafsie, to St Raymond's Cemetery in the Bronx for the second meeting with "John."
PARANORMAL HEARING?
Lindbergh sat in the car while Jafsie went to meet the man who shouted "Hey Doctor!" or "Ay Doc!" Both men would later change their testimony several times.
Lindbergh, sitting half a block away with the windows rolled up testified at the trial that he heard the voice of Hauptmann- it was now almost 3 years later! This is not humanly possible.
THE DEAF EAGLE?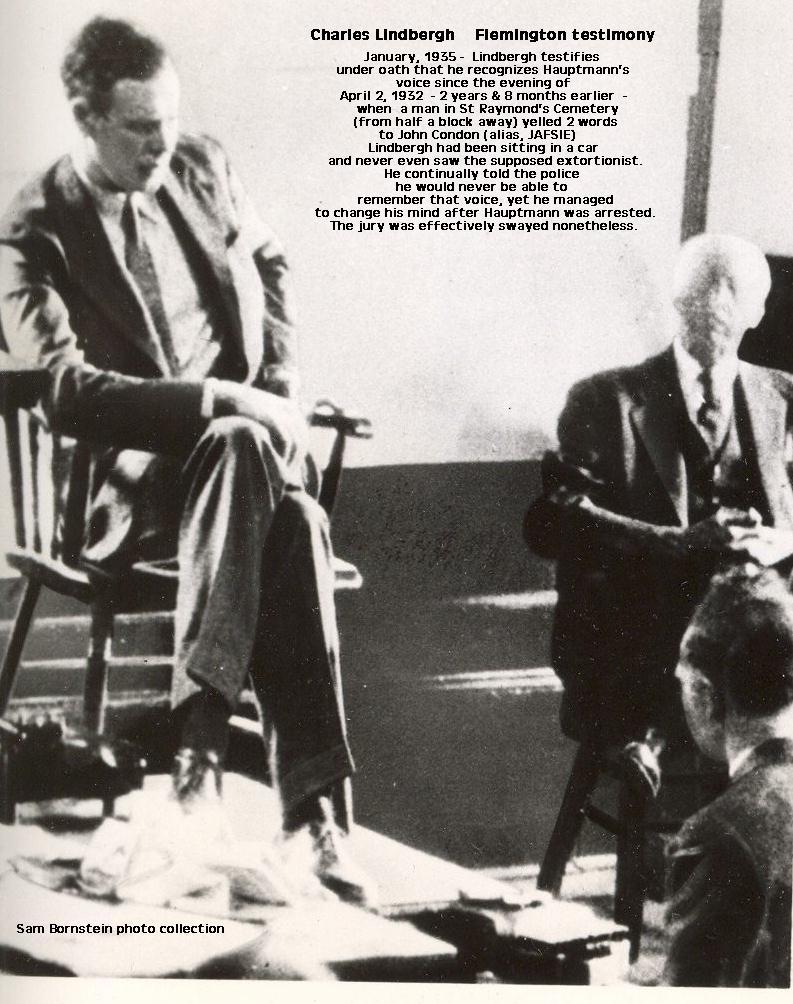 Now, Lindbergh's youngest daughter, Reeve, has written a memoir - Under A Wing - in which she claims her father was hard of hearing during her childhood. He refused to allow his children to use cotton balls as protection against painfully loud airplane engines and he never guarded his own eardrums from the roaring engines either.
TESTI-LYING LINDY
When Hauptmann was first arrested, Lindbergh said he would not be able to identify "Cemetery John's" voice because it was now more than two years later and he only heard 2 words.
However, after the police ordered Hauptmann to shout the words "Hey Doc," in a room filled with many cops and a disguised Lindbergh, the hero changed his mind and suddenly claimed he remembered the voice.
He said it was Hauptmann without a doubt. Hauptmann never knew Lindbergh had been in the room during that staged shouting.
During the trial, Lindbergh listened intently. Anne attended the proceedings twice, but her testimony was very brief. The defence attorney, Ed Reilly never even questioned Anne as a witness.
Lindbergh, sitting at the Prosecution's table, only looked at Hauptmann twice during the trial, according to some journalists.
He also carried a gun into the courtroom which was seen, under his jacket, each time he leaned forward.
H L MENCKEN'S DIARY
In "The Book of American Diaries" there is a quote from H.L.Mencken's Jan 21, 1935 diary entry that seems to lend credence to Ahlgren's and Monier's theory.
"Dr. Marjorie Nicolson, dean of Smith College, was here for lunch yesterday...She has been in Washington attending a meeting of the Smith Alumnae Assoc. With her there was young Constance Morrow, sister to Mrs. Lindbergh....Dr. William A. Neilson, president of Smith, was at Flemington, New Jersey at the time of the opening of the Hauptmann trial and saw a great deal of the Lindberghs. He told Dr. Nicolson that Mrs. Lindbergh laughed at the newspaper accounts of her heroic bearing on the stand. She said that the kidnapping was now an old story to the Morrow family, and that they had begun to look at it objectively - in fact, they had reached such a point that they made limericks on the names of the witnesses at the trial. All of the shock and sorrow were endured and survived long ago.
Lindbergh, according to Dr. Neilson, goes to the trial as to a show, and is delighted that he has so good a seat. Like his wife, he has absolutely no heat against Hauptmann. The thing, he feels, is now out of his hands, and what interests him mainly is the sheer drama of it."
On December 5, 1935, it was announced in the Press that Gov Harold Hoffman was calling for further investigation of the trial. He suspected evidence was manufactured by the NJ cops and David Wilentz, the Attorney General.
On the very next day, Dec 6, Anne wrote in her diary that Charles had given her orders to pack up the house - they are moving to Europe! The NY Times reporter, Deak Lyman, had been given the "scoop" by Lindbergh himself, that they would be fleeing this country for a better life elsewhere since they cannot live with the reporters and journalists snooping into their lives.
But, it is no coincidence that the famous aviator secretly acquired passports and visas for himself, his wife, and new child Jon, (a curious name considering his baby brother had supposedly been killed by Cemetery John!)
The Lindberghs fled to England on Dec 19 and the world was duped once again. The Press has been eternally blamed for chasing the Lindberghs to Europe but the truth is fairly obvious - Lindbergh knew he could not remain in this country if a skeptical governor did not believe the condemned man was guilty.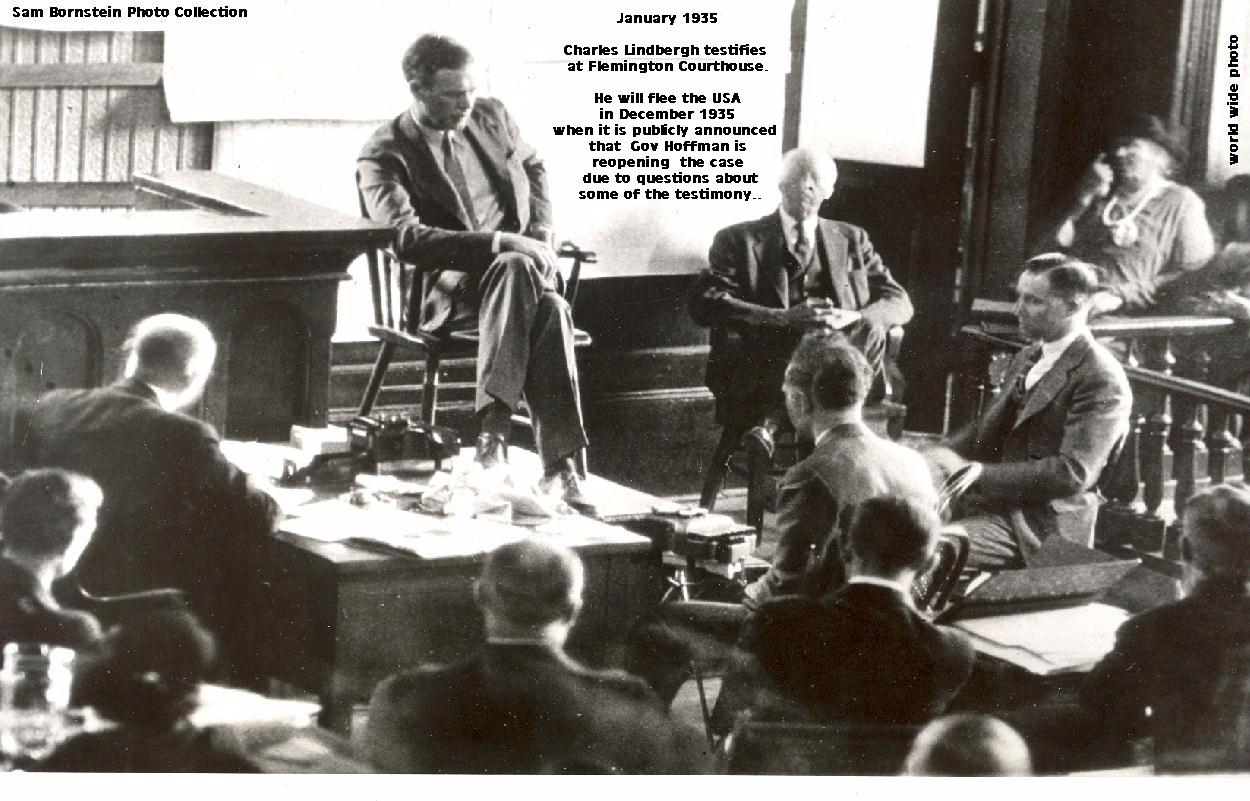 "The Night the Lindbergh Baby Disappeared"
by Seth Moseley.

Yankee Magazine, March 1982
Sue Campbell contributed this article to the LKH Forum
"This reporter has never forgotten those four years, for luck -- plus nerve and verve -- led me to Colonel Lindbergh for the first interview relating the earliest hours of the horror he and his wife shared...
The ambassador's son, Dwight, Jr. and I were fraternity brothers and good friends...
On the night of March 1, a Tuesday, it rained in New York. We turned in early. As I slept, a crack Associated Press reporter, Sam Blackman -- later an AP executive -- finished his stint covering the state legislature then in session in Trenton and went back to the capitol press room...

"Lindbergh baby kidnapped!" an editor shouted.

Blackman ran to his car and drove to Hopewell. He knew the obscure road that snaked three miles north of town to the Lindbergh estate. He'd been there before for a story or two. The father, mother, and child were the best-known family in the world...
The next morning 5 A.M., the phone rang in [Mosley's] room. The Lindbergh baby is stolen," said Al Williams, the "overnight" editor. "You know young Dwight Morrow, we hear. He's in the Lindbergh house. Get out to Hopewell, New Jersey, and see Lindbergh and phone me." I asked him where Hopewell was...
In Hopewell, veteran reporters from New York, New Jersey, and Pennslyvania were in the village, pinned down by 200 state troopers. The "sensational" dailies -- the tabloids -- were there in full editorial force. No one could break through the cordon of police. I wrote a note: 'Dwight, May I see you for a minute? I'm with the Journal. Seth Moseley.' A trooper took the note and drove to the home. Young Morrow was not in the house, but 20 minutes later a Franklin sedan pulled up. The driver told me to get in. There was a rifle on the rear seat. The driver wore a black jacket and gray trousers. We drove a mile toward the Lindbergh house and stopped. The man turned toward me. It was Charles Lindbergh.
"What do you want?" He was abrupt, cool. I said I'd like his version of what had happened -- from the start.
"I have no reason to talk to you," he said. "I don't like your publisher [William Randolph Hearst] Publicity is hurting us. The less we're in the newspapers the more chance we have of finding Charles. I have nothing to say."
I told him I had a job to do. I knew nothing, I said of his relationship to Mr. Hearst. I said the kidnapping was a matter of public record. He was adamant about not talking. But when I said that if he declined to talk to me 150 reporters would descend on him in 60 minutes, each demanding an audience, he relented.
My notes are long gone now, and neither the New York Public Library nor the Hearst organization has a copy of New York Evening Journal's "Extra" with a page 1 interview descending in vertical columns under the headline:
"I was a gulping 22-year-old cub reporter. But I asked questions. "When did you know the child was missing?" I asked.

"Sometime after nine o'clock last night. The boy's nurse, Betty Gow, came downstairs. I was i the library. Mrs. Lindbergh was upstairs about to retire. Miss Gow had gone into the baby's room, for he had a cold and she wanted to check him. The child wasn't there. She went to Mrs. Lindbergh and asked her if she had the child. She didn't. Then Miss Gow came downstairs and asked if I had him. The child was gone."

'Was there any immediate clue in the child's room?"

"Yes. There was a note propped up on the radiator under the southeast window. It was a ransom note, but I didn' open it right away. Thought there might be fingerprints.

Whatley [Oliver Whateley, the butler] telephoned the Hopewell police. A few minutes later I called the state police in Trenton and reported the child missing."

Lindbergh said he then got his rifle and made a thorough search of the grounds, he and Whateley carrying flashlights, before and after police arrived. Meanwhile, his wife, the nurse, and Elsie Whateley, the cook-houskeeper who was the butler's wife, covered all 12 rooms of the house, the cellar and attic, and the garage.

"Before Mrs. Lindbergh went upstairs -- we had been sitting in the living room earlier -- I heard a sound outside, a sound like a box falling, wood hitting other wood. But it was a windy night and we ignored the sound."

Lindbergh revealed that the two Hopewell policemen who responded "very quickly" -- Harry Wolfe and Charles Williamson -- discovered two holes pressed into yellow clay beneath the nursery window. There were also footprints "but they were blurred.

"The Hopewell police officers found parts of a ladder, in three sections. One of the rungs and one of the rail were split. And they found a chisel. Perhaps if had been brought to pry open a window. But the nursery window was not locked."

New Jersey state police, under Colonel H. Norman Schwarzkopf, had arrived shortly afterward.


"One of the state police, a fingerprint man, put on gloves and went over the envelope for fingerprints. He didn't find any."

"What did the note say?"

"It asked for $50,000, but right now I can't discuss the rest of the note."

"Who would want to take your child, Colonel Lindbergh?"

"I don't know. More than one person, I believe. A gang of professionals, I think."

Lindbergh drove me back to a group of state troopers and let me out. He didn't say good-bye. We never spoke to each other again."

Nancy
Motive, means and oppurtunity and police help
Fri Apr 20 2001


... the police were a huge help to Lindbergh since they considered everyone but the parents of the victim to be a likely suspect and investigated the crime on this premise. If the police had done their job, investigating Lindbergh along with all other possible suspects, things would have turned out differently I am sure. The fact that the police and prosecutors were blinded by hero worship along with most of the rest of the country is part of what many people find troubling about this case.

How can we have justice if the police do not investigate crimes based on motive, opportunity and physical evidence? If Hauptmann was an extortionist, which I could believe based on the facts we know now, he did have a motive for taking the baby. However the facts show that H. did not have the opportunity:witnesses place him elsewhere, no reliable witnesses place him at the scene and the timing/location for an outsider kidnapping is terribly problematic. Physical evidence is primarily the ransome letter and the ladder.The letter it is weak evidence because handwriting analysis is not terribly scientific, with experts on both sides of the question of whether or not Hauptmann wrote the note. Thanks again to police bias we do not have reliable, uncoerced handwriting samples from Hauptmann for comparison.

The primary evidence linking the ladder to Hauptmann (his attic floor) was totally in the private control of the police for many months and outside a reliable chain of command. Even if the evidence wood was strong, which is debatable, one has to ignore it based on the strong possibility of police tampering (think of the OJ Simpson case: The vial of OJ's blood that detective Vanatter kept with him, breaking the chain of command, was what should have put OJ in prison, but thanks to that break in the chain it set him free).

Richard Hauptmann had no opportunity to kidnap/kill Charles Lindbergh Jr. The physical evidence which is not open to the possibility of police tampering does not link him to the crime scene. Hauptmann may have a motive for kidnapping if you believe him to an extortionist. Perhaps if H. had been given the lie detector test he so wanted the motive question could have been answered.

Lindbergh, on the other hand, may have had the motive for purposeful murder (defective baby) or accidental murder (playing a 'joke' on wife and servants similar to one he played on them with the baby several months earlier). He certainly had the opportunity (he was at the scene and his earlier whereabouts were never checked). Now that we have DNA testing, if the ransom envelope flap was tested and compared to a sample from Lindbergh or his children we could also have the physical evidence link.
Michelle
There wouldn't have to be "something wrong"
Wed Aug 2001


...with Lindbergh's baby for the eugenic theory - CAL would only have to think the child was not his idea of perfection.
Doesn't the eugenics/Nazi ideology seem much like embryonic cell research now? (running & ducking....!) Sort of like the Nazi experimenting on people because they would die in the camps anyway. Would Lindbergh have wanted to take a chance on his "line" being compromised? Actually, I take a rather dim view of a deliberate murder theory on this basis, because it seems it would be easy to put a pillow over the baby's face, or give an accidental overdose of medicine - happens all the time, and wasn't suspected then. Or send away to an "auntie in Switzerland for the fresh air", or something. Boo Radley's parents probably didn't think of it.

I was wondering if anyone thought that this was a toilet-training provoked thing? It is such a big cause of death in toddlers and young children (Jon-Benet Ramsey?) and I remember mention of the child being awakened to put on the potty chair. It's hard to speculate on that because children were toilet trained much earlier in those times.

Hey! my original question was about the possible early death of CAL's grandchild, also named Charles. Does anyone know if this is true?
Please visit :

Lindbergh Kidnapping Hoax Forum

Ronelle Delmont's Lindbergh Kidnapping Hoax You Tube Channel
ronelle@LindberghKidnappingHoax.com

Michael Melsky's Lindbergh Kidnapping Discussion Board
© Copyright Lindbergh Kidnapping Hoax 1998 - 2020